The FAB Clinic is now open inline with DHHS requirements

. We look forward to seeing you soon.
Farewell age spots, unwanted spider veins, rosacea and pigmentation from your very first treatment.
​
Harnessing the industry's most powerful IPL technology, we're proud to offer breakthrough solutions to unwanted pigmentation and vascular lesions.
​
Able to treat areas most commonly exposed to the sun (such as face, neck, décolleté, legs, arms and hands), our advanced IPL treatments significantly clear your complexion to reveal brighter, younger looking skin.
​
In just 1-3 sessions, we can improve the appearance of:
Age spots (red/brown pigmentation)

Vascular lesions such as spider veins

Rosacea

Freckles

Sun damage
F.A.Q's
How does Lumecca work?
---
A month prior to your treatment you must avoid direct sun exposure. Even if you use a high SPF on your skin, the residual heat within your skin can still affect the outcome.
During treatment there will be a bright flash of light from the Lumecca machine, that will feel like a light elastic sensation. Redness and a slight warming of the skin are normal after treatment and usually subsides within an hour.
Over the next 24-48 hours you may see a darkening of pigmented spots. However, these pigmented lesions flake off, leading to an evening out of skin tone.
After treating vascular lesions you may see the vein blanch and disappear or a colour change in the vessel which will dissipate after a few days.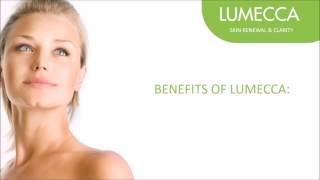 ---
How many treatments will I need?
---
The number of treatments required varies from person to person. You'll be provided with a tailored treatment plan during your complimentary consultation.
You can expect to see an improvement after your first session, however, we recommend between 1 and three treatments, every 4 -8 weeks for best results.
---
What areas can be treated?
---
Lumecca™ can be used on all areas of the body. The most commonly treated areas are those that are most frequently exposed to the sun, i.e. the face, neck, décolletage, back, legs, hands and arms.
---
What results can I expect?
---
You should see an improvement in the appearance of your skin after just one session. The number of sessions required will depend on the severity of skin damage and your skin type.
The skin will continue to look younger and more brilliant over time with most visible results after 1-2 weeks. Having multiple photo facial sessions will improve the final result. For vascular treatments such as facial telangiectasias, results can be seen in up to 2 weeks.
---
Are the results permanent?
---
Although in some cases, the removal of pigmentation issues may be long lasting, often a maintenance session is advisable every 6-12 months following the initial treatment course.
---
---
Medik8 - VIRTUALLY PORELESS DISCOVERY KIT
Begin your journey to a refined complexion with Virtually Poreless Discovery Kit. selected Pore Cleanse Gel Intense™, Pore Minimising Tonic™ and Refining Moisturiser™ help to improve skin texture and tone for a smooth, healthy complexion.
FREE CONSULTATION &
TREATMENT PLAN
If you are a new client, Welcome!
Your appointment will start with a free consultation, and a custom treatment plan to suit your individual needs.
Medik8 - LIPID-BALANCE CLEANSING OIL™
This ultra-gentle oil cleanser gently dissolves impurities and waterproof make-up to reveal radiant, refreshed skin.The perfect start to your morning and evening skincare routines.