The FAB Clinic is now open inline with DHHS requirements

. We look forward to seeing you soon.
A powerful anti-ageing solution, our Fractora Skin Resurfacing treatments pair an immediate youthful glow with long-term skin tightening and lifting.
​
Harnessing the industry's most advanced radio-frequency technology, our Skin Resurfacing treatments reduce the appearance of fine lines and wrinkles and stimulate our body's natural collagen and elastin production to not only lift your areas of concern but deliver a brighter, more even complexion.
​
In as little as 3 treatments, experience a reduction in fine lines and wrinkles (in particular, smile lines), a more defined jawline, contoured cheeks and eye area and a lifted neck.
Our Skin Resurfacing treatments can also effectively minimise the appearance of stretch marks and scars on the face and body.
F.A.Q's
How does Fractora™ skin resurfacing work?
---
Fractora™ delivers radio frequency (RF) energy to the skin through an array of pins producing localized heat and small micro-lesion dots in the sub-dermal tissue. This creates hundreds of tiny wounds in the skin that stimulate the body to heal, promoting collagen restructuring and tightening the skin.
After assessment and consent, a strong topical local anaesthetic cream will be applied for approximately 40 minutes.

When the skin is suitably numb, it will be cleaned with antiseptic and Fractora will be applied to the skin. At this stage it is anticipated there may be some pin-point bleeding but pain should be minimal.

After the whole area is treated, it will be cleaned again and some antiseptic may be applied.
Depending on the depth of treatment and the intensity of the radiofrequency applied through the Fractora pins, around 3-7 days of downtime are expected with this treatment.
The first day or so following treatment will usually be associated with swelling and redness and usually were will be some scab formation around the pin sites on the skin. These usually will disappear by day 7.
A high quality mineral makeup can be applied 24 hours post treatment and broad spectrum 50+ sunscreen should be worn daily, for a minimum of 14 days post treatment.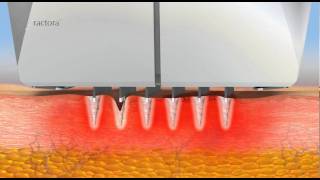 ---
How many sessions will I need?
---
Depending on the results required and skin laxity, between one and four treatments are required for optimal results.
Body treatments such as the abdomen usually require up to 3 treatments for the best results.
---
What results can I expect?
---
Often in the immediate phase following Fractora, the skin will look glowing and radiant, however, it can take 3 -6 months for optimal remodelling and lifting to be achieved.
---
Are the results permanent?
---
Fractora resurfacing creates a permanent increase in collagen and elastin levels, however, ongoing damage by UV light and other ageing processes mean that it is often advisable to repeat the treatment every few years to keep the skin looking its best.
---
---
Medik8 - VIRTUALLY PORELESS DISCOVERY KIT
Begin your journey to a refined complexion with Virtually Poreless Discovery Kit. selected Pore Cleanse Gel Intense™, Pore Minimising Tonic™ and Refining Moisturiser™ help to improve skin texture and tone for a smooth, healthy complexion.
If you are a new client, Welcome! Your appointment with us came consultation, during which one of our medically trained staff will discuss your skin concerns, describe our treatments and products in detail.
Medik8 - LIPID-BALANCE CLEANSING OIL™
This ultra-gentle oil cleanser gently dissolves impurities and waterproof make-up to reveal radiant, refreshed skin.The perfect start to your morning and evening skincare routines.