The FAB Clinic is currently closed due to Vic COVID-19 lockdown

. We look forward to seeing you soon.
Tighten, tone and contour with zero needles, surgery or pain.
A celebrity favourite, our Forma Non-Surgical Facelift works to lift, firm and enhance your natural glow with zero downtime. Able to treat the most common loose skin problem areas, experience advanced sculpting to your jawline, nasolabial folds, brow bone, cheekbones and more.
Utilising advanced radio frequency technology, our Non-Surgical Facelift works within the deep layers of your skin to stimulate the production of new collagen and elastin for both an immediate skin tightening result and long-lasting improvement of your skin's appearance.
Likened to a hot stone massage, simply lay back, relax and enjoy giving your complexion a new lease on life.
F.A.Q's
How does Forma™ skin tightening work?
---
Forma targets wrinkles without the need for needles, toxins, or going under the knife. The radiofrequency current flows between the electrodes to provide a comfortable thermal experience. The temperature is optimized and controlled to provide even stimulation of collagen and improved skin elasticity. The therapeutic thermal temperatures eliminate hot spots and undertreatment.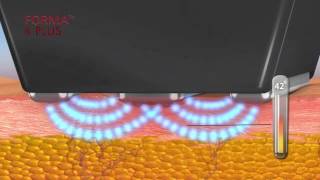 ---
What does Forma ™ skin tightening treat?
---
Forma can treat the face and neck, along with body contouring for most areas of the body, such as the thighs, hips, buttocks, waist, stomach, and arms. The most common treatment areas on the face are: - The forehead
- Around the eyes (targeting crow's feet)
- Upper eyelids
- Lower eyelids
- Nasolabial folds
- Smile lines
- Jowls
- Neck Commonly treated areas on the body include: - Arms (to treat bat wings)
- Abdomen
- Knees
- Any other areas with loose skin
Forma can tighten the jawline, remove nasolabial folds, raise and lift the brow bone area, sculpt cheekbones, and improve overall skin health.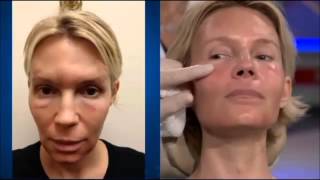 ---
What does Forma™ feel like & does it hurt?
---
It is an essentially painless procedure with no downtime due to its precise technology and deep-layer targeting of the skin.
Slight redness in the treatment area is common post-procedure and will subside within 60 minutes.
---
What's involved in a Forma™ treatment?
---
Forma InMode is typically considered a very calming and relaxing treatment, with patients feeling rejuvenated once it's complete.

During your Forma treatment, a cool conductive gel will be applied to the treatment area.
Our technician will then glide and massage the Forma precision application head over the selected area in small passes, focusing on target areas, such as the jowl, cheek, and eye area, until it reaches and maintains a specific temperature.
You will feel the heat, but it shouldn't be too uncomfortable.

After the treatment, the clinician will put a warm towel on the treatment area to wash away the gel and soothe the skin. They may also apply cream and sunscreen.

The radiofrequency will penetrate the skin and heat the deep layers. And the temperature gauge on the Forma head will ensure that no area goes undertreated or becomes over treated.

On average, Forma takes 30-45 minutes per body part. Face and neck treatments last around 45-60 minutes each and have targeted heat points that are met and maintained during the procedure.
---
When can I expect to see results and are they permanent?
---
Patients usually report having their skin feel tighter after each treatment. And over time, they notice a smoother contour of the treated area, sagging skin becoming more toned and lifted, and a reduction in the folds of their skin.
As Forma stimulates collagen production and improves the skin's elasticity over time, the more treatments you have, the better and longer-lasting your results will be. So expect to see your results improve with each visit. After the initial treatment series, you will benefit from following a maintenance schedule which would be 1 single treatment done every 3-6 months, to help maintain long-term results.
---
---
Medik8 - VIRTUALLY PORELESS DISCOVERY KIT
Begin your journey to a refined complexion with Virtually Poreless Discovery Kit. selected Pore Cleanse Gel Intense™, Pore Minimising Tonic™ and Refining Moisturiser™ help to improve skin texture and tone for a smooth, healthy complexion.
FREE CONSULTATION &
TREATMENT PLAN
If you are a new client, Welcome!
Your appointment will start with a free consultation, and a custom treatment plan to suit your individual needs.
Medik8 - LIPID-BALANCE CLEANSING OIL™
This ultra-gentle oil cleanser gently dissolves impurities and waterproof make-up to reveal radiant, refreshed skin.The perfect start to your morning and evening skincare routines.