The FAB Clinic is now open inline with DHHS requirements

. We look forward to seeing you soon.
As we age, we start to lose volume in our face, which can make us look tired and sunken. This is caused by the body's decreased ability to produce collagen and elastin.
​
Unlike wrinkles which require muscle relaxants to soften them, facial hollowing and folds require a dermal filler to help re-volumise and hydrate the area.
​
Made from a natural sugar already present in the human body – dermal fillers offer a minimally invasive solution to replicate the function of this naturally occurring substance and to restore facial fullness and volume.
F.A.Q's
How does cryolypolysis fat - freezing work?
---
Cryolipolysis destroys fat cells by rapidly freezing the targeted area for a set amount of time. Following treatment, fat cells are broken down and naturally eliminated from the body. See an overview of this process below:
Cyrolipolysis is not a weightloss treatment and should be used utilised in conjuction with a healthy diet and exercise.
---
What areas can be treated?
---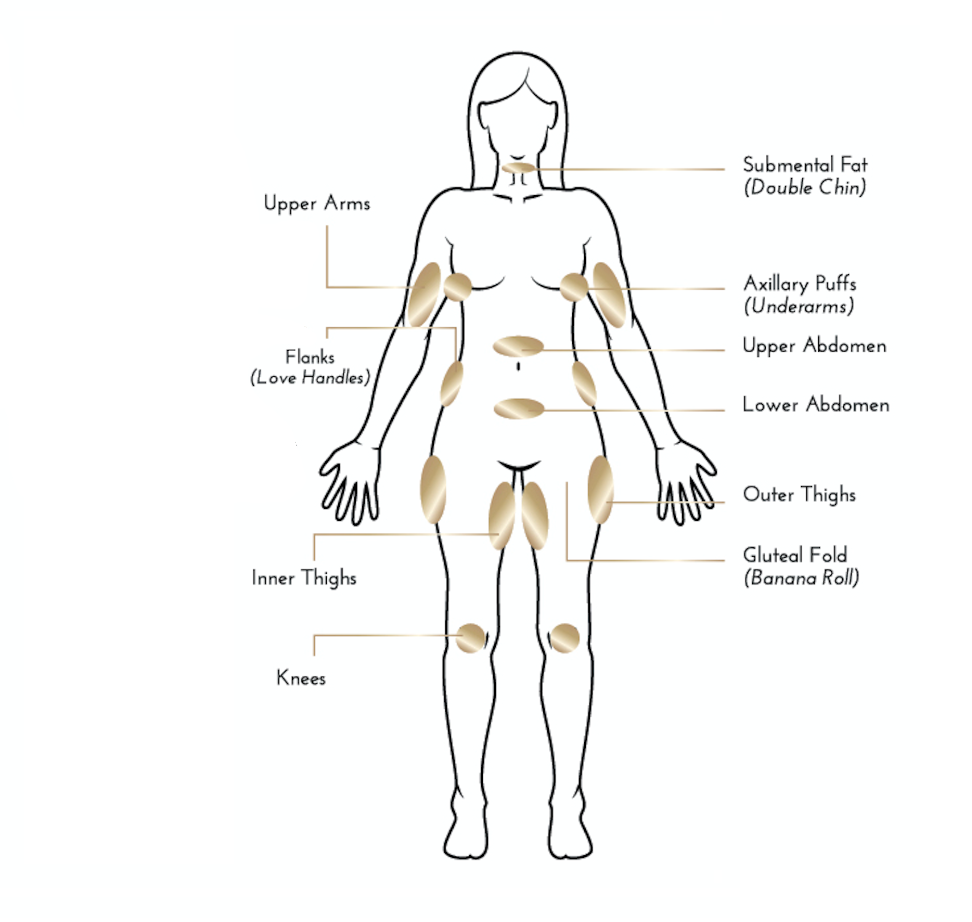 ---
How many sessions will i need & how many areas can be treated at the same time?
---
You'll be provided with a tailored treatment plan during your complimentary consultation. We recommend between 1 and four treatments, every 6-8 weeks for best results. Book your complimentary consultation here.
Our Cryolipolysis machine is one of the newest and most advanced, with four applicators that can be used simultaneously. This unique technology allows us to offer our customers a variety of time and cost-effective treatment packages. View our pricing and packages here.
---
What does the treatment feel like & does it hurt?
---
Cryolyposis Fat Freezing is tolerable, with many patients opting to read, watch Netflix or sleep during their 45-60 minute treatment.
Once the vacuum applicators been applied, you may experience discomfort and an intense cold sensation for approximately 7 - 12 minutes until the treated area becomes numb.
The suction pressure of the vacuum applicators may cause a tugging or pulling sensation, and redness can be expected immediatley post treatment.
Possible side effects include:
- Mild bruising to the treated area
- Blistering ( very rare)
Unlike other permanent fat reduction methods, cryolipolysis requires zero downtime. Following treatment, you can safley return to your normal activies.
---
When will i see results & are they permanent?
---
Results will vary based on the individual; however, progressive results will be seen 30 - 90 days post-treatment. Once the fat cells have been destroyed, they cannot return.
Each treatment will destroy 20 % - 25% of fat cells in the targeted area.

*Individual results may vary.
---
Am i a suitable candidate for cyrolipolysis fat freezing treatments?
---
Your suitability will be assessed during your complimentary consultation.
Cryolipolysis is indicated for men and women who have stubborn fat buldges that are resistant to diet and exercise. It is designed to treat well defined pockets of fat with distinct borders.
Cryolipolysis is not suitable for the following patients:
Under the age of 18

Pregnant or breastfeeding mothers

Bleeding disorders

Neuropathic disorders

Cryoglobulinemia or paroxysmal cold hemoglobinuria

Active implanted devices including pacemakers and defibrillators

Dense, taught core fat without distinct buldges ( barrel chest/ belly)

Loose skin with excessive laxity ( loose hanging skin with little fatty tissue)
---
---
Medik8 - VIRTUALLY PORELESS DISCOVERY KIT
Begin your journey to a refined complexion with Virtually Poreless Discovery Kit. selected Pore Cleanse Gel Intense™, Pore Minimising Tonic™ and Refining Moisturiser™ help to improve skin texture and tone for a smooth, healthy complexion.
FREE CONSULTATION &
TREATMENT PLAN
If you are a new client, Welcome!
Your appointment will start with a free consultation, and a custom treatment plan to suit your individual needs.
Medik8 - LIPID-BALANCE CLEANSING OIL™
This ultra-gentle oil cleanser gently dissolves impurities and waterproof make-up to reveal radiant, refreshed skin.The perfect start to your morning and evening skincare routines.